Philips Everflo Oxygen Concentrator, 5LPM
Please sign in so that we can notify you about a reply
Do you want to purchase this product in bulk quantity? Fill the form and our team will send you the best offer.
---
Philips /Respironics Oxygen Concentrator Everflo 5L :
Brand : Philips , Model : Everflo 5L
Hospitals store is offering Philips Oxygen concentrator at lowest price. Machine come with 3 years manufacturer warranty. machine come with all the accessories including humidifier bottle and nasal cannula etc.no other extra items required to use the machine.
Philips' oxygen concentrator is Lightweight for easy transport: The EverFlo Oxygen concentrator weighs in at only 31 pounds, reducing shipping and storage costs and risk of injury.
Philips' oxygen concentrator has Low maintenance for reduced service costs : No home care provider filter change for two years. Patients do not ever have to change filters.
Specifications for Philips Oxygen Concentrator :
General system Input Voltage : 220V , +/- 10% VAC, 50Hz
Dimensions : 58.4 cm H x 38.1 cm W x 24.1 cm D (23" H x 15" W x 9.5" D)
OPI (Oxygen Percentage Indicator) Alarm Levels : Low Oxygen (82%) and Very Low Oxygen (70%)
Input Frequency : 50 / 60 Hz
Average Power Consumption : 350 W
Oxygen concentration* (at 5 LPM) : 93 +/- 3 %
Outlet Pressure : 5.5 PSI
Oxygen Liter Flow : 0.5-5 l/min
Weight : 14 kg .
Operating Temperature : 12°C to 32°C/55°F to 90°F
Sound level : 45 (typical) dB
Storage/Transport Humidity : -34°C to 71°C (-30°F to 160°F) up to 95% relative humidity
Operating Humidity : up to 95 %
Operating Altitude : 0 to 2286 m (0 to 7500 ft)
---
List of Supplies with Philips Oxygen Concentrator :
Oxygen Concentrator Machine Everflo 5L
Nasal Cannula
Humidifier Bottle
Filters set
Power cable
User Manual and other documents
Brand/Manufacturer
Brand:
Philips Healthcare
Weight & Dimensions
Product Dimension (mm):
584 x 381 x 241
Product Specifications
Oxygen Flow ( Liters) :
0- 5 Liters per minute
Power Supply & Battery
AC input voltage:
220 - 240V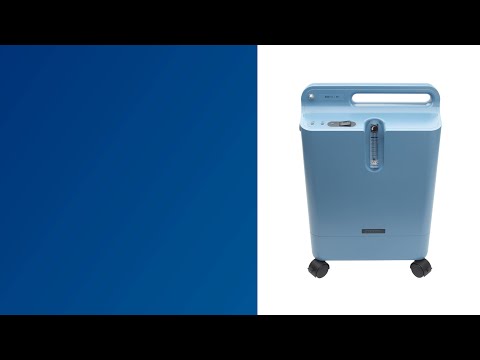 How to use Philips Respironics EverFlo oxygen concentrator
oxygen concentrators have been very similar - heavy, bulky, noisy, or requiring frequent maintenance. EverFlo from Respironics is a unique stationary concentrator that delivers what homecare providers want and patients deserve.
Administrator reply

Thanks for your feedback about Philips Everflo Oxygen Concentrator.
Ramesh Pichori (Verified Buyer)
Dr. R. K. biswas (Verified Buyer)
Mohd Arif (Verified Buyer)
Amit Sharma (Verified Buyer)